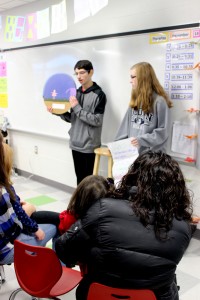 In the month of December, Ms. Galasso's Art Survey class collaborated in a cross-curricular lesson with Mrs. Richards' Child Development class in an Author/Illustrator project!
As part of the Art Survey Curriculum, Art Survey students participate in a 2D Design unit where they have to author children's books. In doing this, they create the designs of each page using cut-paper collage techniques while creating symbolism through simple shapes, color lines, usage of Elements and Principles as well as Compositional Rules.
This year the project took a new twist! In the new building, the Art Department and Child Development rooms are right around the corner from one another! In the Child Development classes, BHS students worked with the Playschool students to create original stories. The Playschool students authored each story and the Child Development students wrote them down for them. From there, the stories were given to the Art Survey students to illustrate and bring them to life.
The project culminated with a celebration at the end of December where the Art Survey students got to share their children's books with the Playschool kids and their parents, as well as the Child Development students!
Thank you to Mrs. Richards and her 4th Period Fall Semester Child Development class for being a part of this collaboration!
For photos of the events and the actual books, please click here.