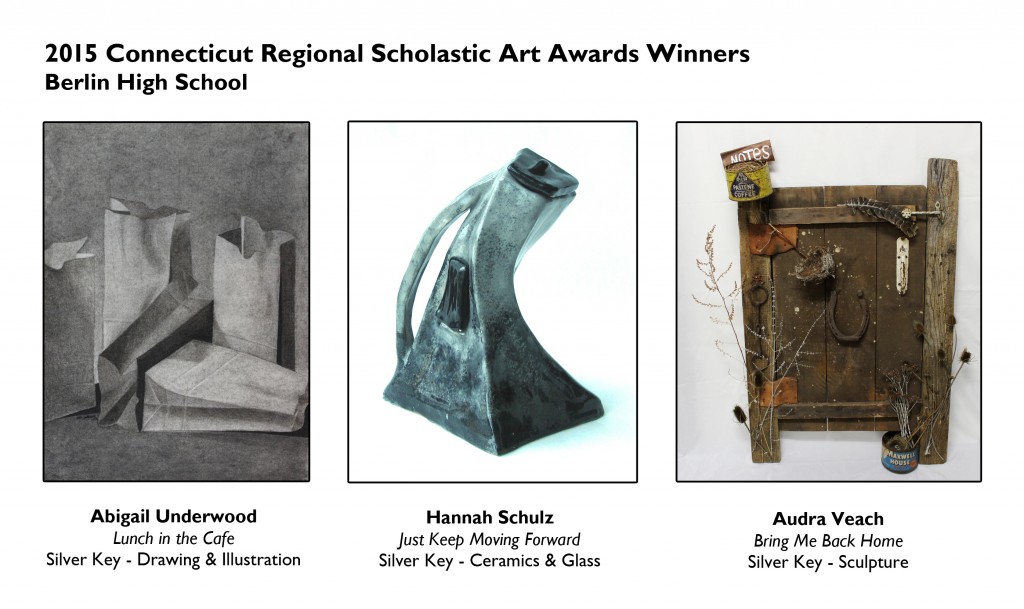 (Click image to enlarge.)
Three Berlin High School Students Place at the 2015 Connecticut Scholastic Art Awards
The Berlin High School Art Department is pleased to announce that three of our students have won awards at the 2015 Connecticut Regional Scholastic Art Awards!
The placements are as follows: Abigail Underwood – Silver Key – Drawing and Illustration category, Hannah Schulz – Silver Key – Ceramics and Glass category, Audra Veach – Silver Key – Sculpture category. All entries were displayed at the 2015 Connecticut Scholastic Art Awards exhibition from January 18 – February 6, 2015 at the Slipe Gallery at University of Hartford.
The Connecticut Regional Scholastic Art Awards is the largest juried student art exhibition in the state, with Gold Key winners being placed into national competition. The Scholastic Art & Writing Awards have an impressive legacy dating back to 1923 and a noteworthy roster of past winners including Andy Warhol, Sylvia Plath, Truman Capote, Richard Avedon, Robert Redford, Joyce Carol Oates, Frances Farmer, Alan Arkin, John Lithgow, Stan Brakhage, Ken Burns, Ned Vizzini, and many more.
Outside the arts, Awards alumni employ their creativity to become successful in any number of ways – leaders in fields including journalism, medicine, finance, government and public service, the law, science, design, and more.
The Awards are an important opportunity for students to be recognized for their creative talents. Each year, the Alliance partners with more than 100 visual and literary-arts focused organizations across the country to bring The Awards to local communities. Teens can apply in 28 categories of art and writing for the chance to earn scholarships and have their works exhibited or published. Submissions are juried by luminaries in the visual and literary arts, some of whom are past award recipients. Panelists look for works that best exemplify originality, technical skill and the emergence of a personal voice or vision.