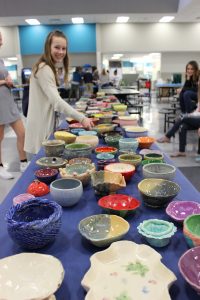 To see more photos click here! 

Berlin High School Empty Bowls Project
This March, the BHS Art Department will host it's first Empty Bowls event. The Empty Bowls Project is an international grassroots effort that began over 25 years ago to raise both money and awareness in the fight to end hunger. Schools and organizations across the country have utilized this unique concept as a way to join together the visual arts and the community.
The event will take place Thursday March 10, 2016 in the BHS cafeteria, from 5:30-7:30 pm. Tickets are $10 for children/ students and $15 for adults and will be available for sale at the door.
Guests attending the event will be share a meal of soups, pastas, breads and desserts, and choose a handmade "empty bowl" to take home and keep as a reminder of all the people within the community that do not have a meal to eat. These ceramic bowls are one of a kind artworks, handmade by the students and staff at BHS.
Proceeds of the event will be donated to the Berlin Food Pantry to aid families within our own community.
For any questions please contact Caitlin DeSorbo at cdesorbo@berlinschools.org.