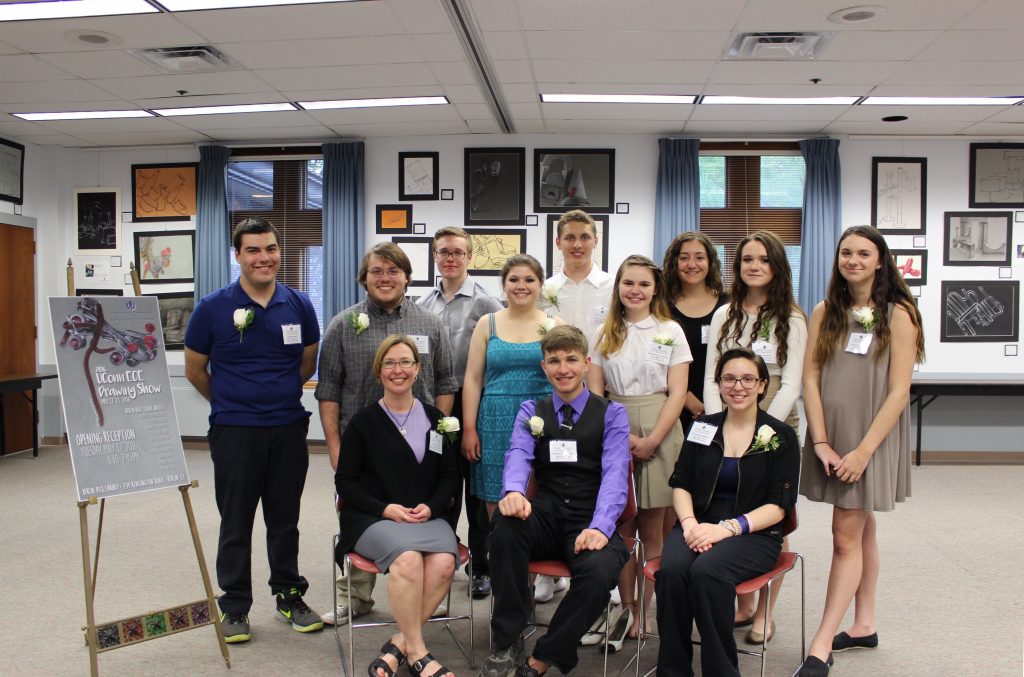 For Photos from the Opening Reception, Click Here!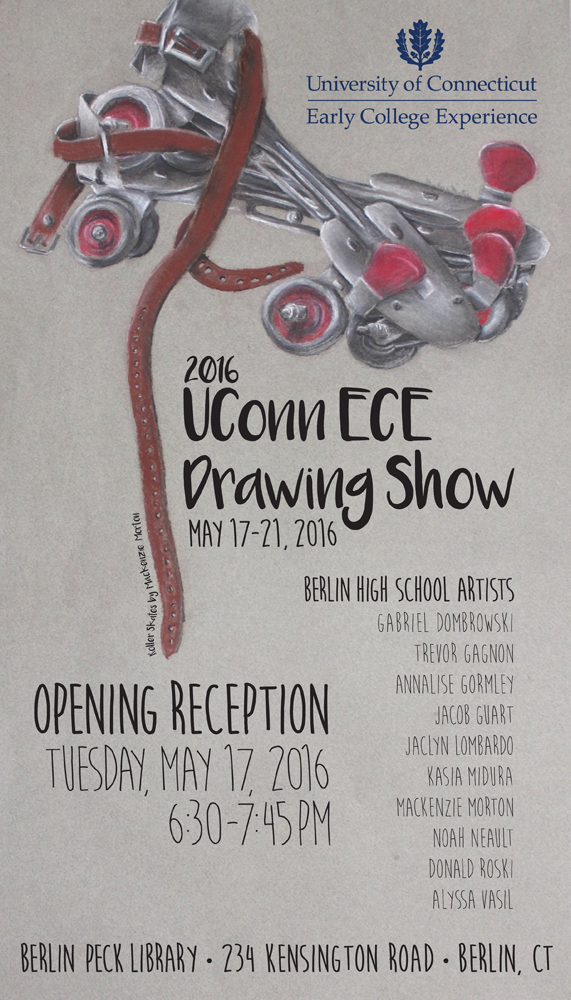 Berlin High School's University of Connecticut, Early College Experience, Art 1030-814 Drawing I students and their work will be celebrated at Berlin Peck Library with an exclusive exhibition. The opening reception will be on Tuesday, May 17th from 6:30-7:45 and will run through till Saturday, May 21st for viewing. The gallery hours are Monday through Thursday from 10 – 8, Friday 10 – 5 and Saturdays, 10 – 4. We look forward to seeing you there.
Short Bios:
Gabriel Dombrowski
Gabriel is a sophomore at BHS. He is focused on chemistry, engineering, and art. His plan is to attend West Point Military academy, and double major in chemical and civil engineering. In art, he focuses on drawing and painting, especially charcoal and acrylic paint. He prefers an interesting piece to a photorealistic one.
Trevor Gagnon
Trevor is a senior at BHS who has enjoyed making stunning, unique, and personal pieces since a young child. Over the past two years, learning from Mrs. Kathy Miller's teachings, he has developed into a fine young artist. When not creating his artwork, he enjoys running indoor and outdoor track, hanging out with his friends, and exploring the world to give him his next artistic idea.
Annalise Gormley
Annalise is a junior at BHS and has taken drawing one and two before taking the ECE UConn drawing course. She is interested in animation, as well as other art forms that have deep meanings behind them. She loves to doodle on everything and is proud of her drawings. She hopes to use her artistic knowledge to help her in her future career and assist her in expressing her personality to other people.
Jacob Guart
Jacob is a post-graduate at BHS, who has been long involved with the Art Department since freshman year. He is always interested in trying out new forms of art and practicing/experimenting along the way. He's currently part of a work transition program. To Jacob, he considers art as a good way to fully express himself skillfully and emotionally.
Jaclyn Lombardo
Jaclyn Lombardo is a junior at BHS. She enjoys playing lacrosse and participating in many extracurricular activities. Her Grandfather is an artist and she has loved following in his footsteps. As an artist, she enjoys drawing organic materials such as flowers and her favorite medium is pencil. She plans on majoring in accounting in college.
Kasia Midura
As a junior at BHS, Kasia has taken multiple art classes including several sculpture, painting and drawing courses. She has had a passion for art from a young age and has been placed in many art competitions. In her senior year she plans to take AP Studio Art.
Mackenzie Morton
Mackenzie is a sophomore at BHS, and has enjoyed taking art classes since she was young. Although she doesn't plan to pursue an art-related career, she will never stop drawing. Her favorite medium to use is charcoal and pencil. Mackenzie also plays the violin and enjoys going horseback riding.
Noah Neault
As a junior at BHS, Noah has been a part of the Art Department since his freshman year and is planning to continue on to AP Studio Art next year. Noah is also an active Boy Scout pursuing the rank of Eagle Scout, which is the highest rank in Scouting. He is planning on attending college and majoring in Bio-Medical Engineering. Noah prefers to work in pencil and charcoal.
Donald Roski
Don Roski is a tenth grade student at Berlin High School.  In his free time, he is a Boy Scout and enjoys both listening to music and playing guitar (mostly grunge and classic rock).  In college, he is planning on majoring in a business field in order to eventually open a record store.
Alyssa Vasil
Alyssa Vasil is a senior at Berlin High School. She has had a passion for art ever since she was young. She enjoys using different mediums like charcoal, pen and ink, watercolor, and acrylic. She loves to challenge herself and grows with each piece. She is planning on going to Albertus Magnus College in New Haven, Connecticut to become an art therapist.