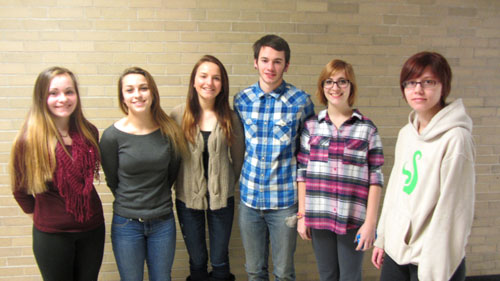 Berlin High School is very excited to present this year's AP Studio Art students.  As such, students can focus their work in three different strands, Drawing/Painting, 2-D Design, and 3-D Design. As March is Youth Art Month, There will be an exclusive Berlin High School AP Studio Art show at the Sandman Gallery & Frame Shoppe located on 14 West Main Street, Meriden. The opening will be on Friday, March 7th from 6:30-8:30 and will run through to Saturday, March 29th for viewing. The gallery hours are Tuesday to Friday from 10am – 6pm and Saturday, 10am – 3pm.  Please come out to support your homegrown artists.
Show photos can be found here.

Short Bios:
Bonnie Anderson – Bonnie is a senior at BHS who's favorite medium is pencil and pen.  She enjoys employing mark-making techniques in her work.
Nicholas Cappa – A senior at BHS is going out of his comfort zone of pencil and has been experimenting with soft pastels and Microns.  He prefers to work with pencil, Microns, soft pastels and charcoal.  His favorite personal work is a pointillism piece done with Microns.
Briana Gorneault – Briana is a junior in the AP Studio Art course focused on the drawing strand.  She discovered her artistic ability her sophomore year and plans on going to college for Art in the future.  Briana's favorite mediums are pencil and pen/ink.
Kelsey Sena – Kelsey is currently a senior at Berlin High School.  Her favorite medium is digital photography.  She plans to attend Hartford Art School this fall as a Graphic Design major.
Courtney Silvia – Courtney is a senior at BHS.  She plans on focusing on the Arts in school next fall.  She enjoys working with photorealism, but is open to experimenting with new techniques.
Jamie Wilkinson – Jamie is a senior at BHS.  She is in the drawing strand and has earned 3 college credits over the summer at Montserrat College of Art.  She is going to CCSU for Art Education in the fall.