Anyone who has ever endured construction at their home knows, the anticipation for the final result, and exhaustion over the grind of construction can pay its toll on the people living through it. The Color My World Project is a mural on the 148' long, 8'7" high temporary wall of the main corridor entering the building on the lower level of Berlin High School. The length of the wall inspired Mrs. Miller, one of BHS's Art Teachers, to take advantage of a teachable moment while thinking of Wall Drawing 999 by the Hartford, Connecticut born American artist,
Sol LeWitt, who recently passed in 2007. The goal was to elevate the spirit with something beautiful to look at and something fun and creative to talk about.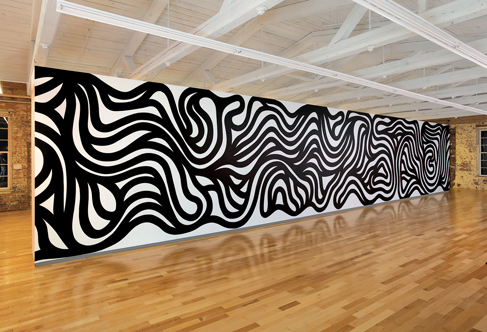 Wall Drawing 999 at Mass MoCA
Our wall was primed with a color called Daydream on Saturday morning, 10-31-2015, in Banksy style for the tada effect that many students and staff noticed on the following Monday morning. The students who participated in the priming transformation included: Haley Cox, Matthew Formicola and Erin Scalora.
The AP Studio Art students: Nathaniel Baretta, Zachary Burkarth, Jacob Harris, Kaileen Langlois, Samantha Giardina, Daniel Perez, and Jason Szalaty had the pleasure of sketching out the line work during the day, while various art students from Mrs. Miller's Art classes volunteered to paint in the lines with Magic Magenta paint from our local Pittsburgh Paint Shop. The instructions given to the students, included that all lines needed to be organic, continuous, minimal cross overs and altered in thickness. This type of conceptual art is not unlike how LeWitt himself worked. As a matter of fact, LeWitt conceptual style was often compared to that of an architect's.
Saturday, November 7th –  – The students/parents who showed up for the event, include in no particular order: Jacob Harris, Nathaniel Baretta, Daniel Perez, Abbie Wendeheck, Hannah Schulz, Gabe Dombrowski, Zoey Salgado, Emily Mazzotta, Divya Patel, Annie Sznaj, Mrs. Sznaj, Annalise Gormley, Erin Scalora, and Mrs. Scalora.
Saturday, November 14th – Rachel Cruz, Kyle Gelazin, Kaileen Langlois, Emily Mazzotta, Erin Scalora, Mrs. Scalora, Hannah Schulz, Annie Sznaj, Mrs. Sznaj
Saturday, December 5th – Matthew Formicola, Emily Mazzotta, Erin Scalora, Hannah Schulz
As the mural is up for limited viewing that only the students of 2015-2016 will be able to experience, photos of the mural is encouraged to memorialize this special event. The wall will be coming down soon to celebrate yet another section of our building being turned back over to us and in so doing, will have completed it's goal.