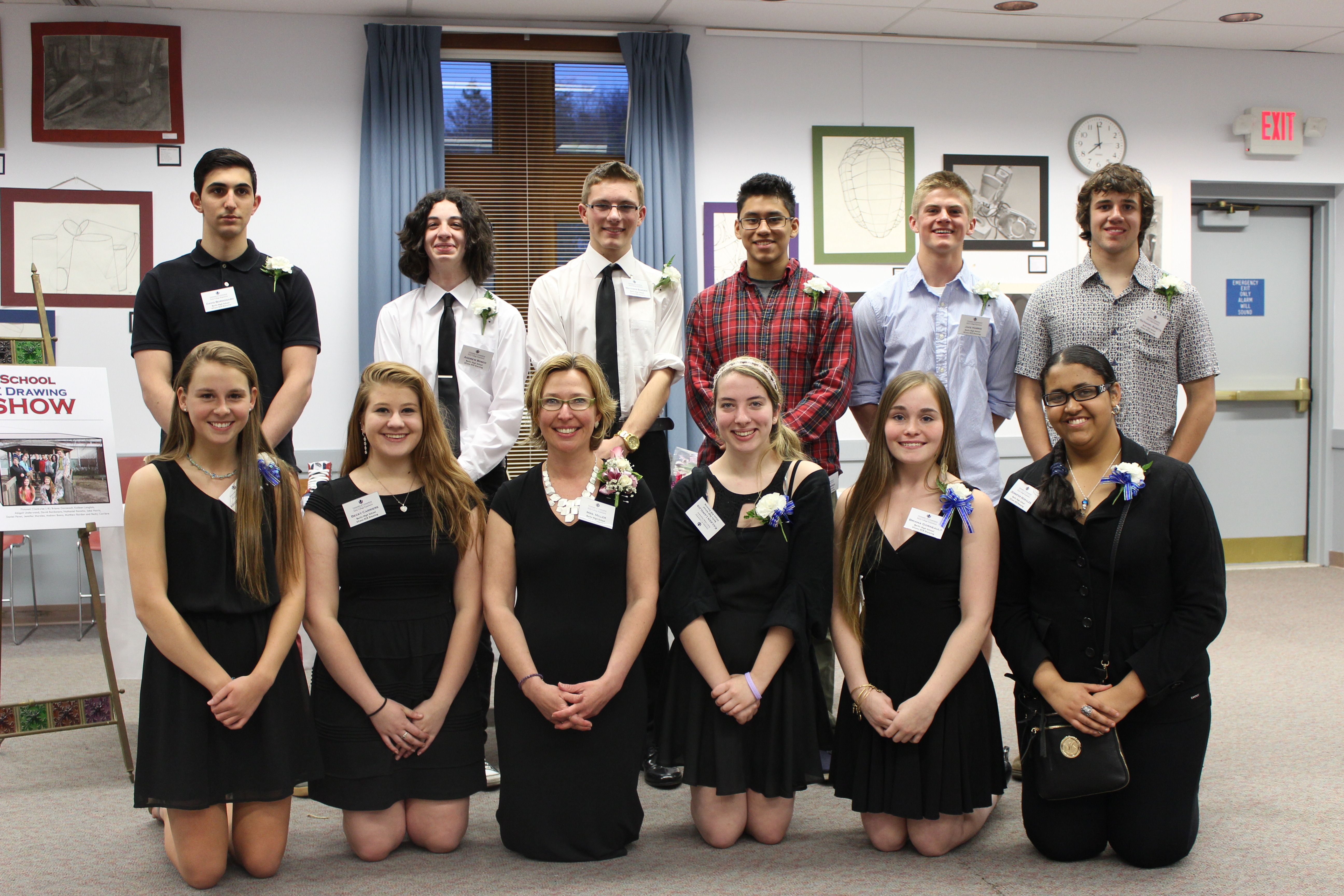 Update: Click the link for pictures from the show!
UConn ECE Drawing Art Opening
Berlin High School is excited to be offering the UConn ECE Drawing Course for the first time this year! As an opportunity to honor our students and all their hard work, we will be having an Art Show at Berlin Peck Library. The opening reception will be on Tuesday, April 28th from 6:30 – 7:45 and will run through till Friday, May 1st for viewing. The gallery hours are Monday through Thursday from 10 – 8, Friday 10 – 5. Please come out to support your homegrown artists!
Short Bios:
Matthew Barden
Matt is a BHS junior currently enrolled in the high school's ECE UConn Drawing program. When working on a piece, he loves to add color or contrast when possible as a means to bring life to his work. The technical drawing skills taught in the course interests Matt, as it supports his interest in engineering, which he hopes to pursue beyond his high school career.

Nathaniel Baretta
Nate is a junior at Berlin High School.  He enjoys drawing and painting nature scenes especially with acrylic paint.  After high school, Nate plans on going to college up north and exploring nearby mountains and forests.  He is thinking about pursuing environmental protection as a career.  One day Nate hopes to own a remote cottage in Vermont or New Hampshire.

David Bordonaro
David is a senior at Berlin High School who embraces his creativity. In his free time he runs track, plays baseball, and hangs out with his friends. He also paints sneakers with acrylic leather paints made for shoe design. His creative mind allows him to produce stunning designs, which he paints onto some of the many sneakers he owns. His favorite part of art is drawing and enjoys still life and abstract concepts. Art has been a passion of his since he was a small child. He believes he is following in the footsteps of his grandmother who once painted beautiful artwork for his family.

Andrew Bosco
Andrew, a junior at BHS, has been at home in the Art Department since day one. Seeing as his artistic explorations (in terms of visual arts) have been in the areas of Drawing and Art History, the ECE UConn Drawing class serves as a great learning experience for his artistic progress and is considering taking the AP Drawing Course next year. Outside of the visual arts, Andrew dedicates most of his time to the sonic arts, as he is an aspiring jazz, funk, and blues musician as well.

Becky Carriere
Becky, alongside using art as a positive outlet, is an active member in her community.  She is a co-yearbook editor, Upbeat peer leader, stage manager of numerous school productions, and is also working towards her Girl Scout Gold Award, all while maintaining a part-time job.  During her minimal free time, she volunteers at the Hospital of Central Connecticut and turns sketches into finished pieces.  As a senior at BHS, she has decided to major in psychology next year and eventually earn her doctorate degree.
Briana Gorneault
As a senior at BHS, Briana plans to pursue the Arts next year by attending High Point University in North Carolina, as an Interior Design major. Last year, as a junior, Briana participated in the AP Studio Art Program at BHS and greatly appreciated the experience and knowledge of art she had received. Besides being an artist, Briana is also a cheerleader, Upbeat house leader/senior board member and somehow also balances a job.
Jake Harris
Jake is a junior at Berlin High School. He enjoys running for the Cross Country / Track team, and Wrestling. Jake loves spending time with his friends, as well as his family, whom he vacations to Nantucket Island with in the summer. As an artist, his specialty is in realism with subtle value changes and line sensitivity. His favorite medium to use is pencil and charcoal. Jake will attend a college in New England.

Kaileen Langlois
As a junior at BHS, Kaileen Langlois has felt at home and welcomed in the Art Department. After taking Drawing I, Painting I, and practically living in the art studio since she was a baby with her grandmother, the UConn ECE Drawing class has been a fantastic experience for her artistic progression. She is considering diving right into the AP drawing course next year. Other than visual arts, Kaileen is very dedicated to musicianship, athletics, and community service, having been a Girl Scout for 10 years.

Jennifer Morales
As a junior at BHS, Jennifer has taken several classes each year in order to become a better artist. In so doing, she found that drawing was her forte'. She prefers to work in pencil, charcoal and ink.

Daniel Perez
Dan is a junior in BHS. He likes to draw and play sports including, Cross Country, Wrestling, and Track & Field. He loves to go on adventures that could be shared with friends. After High School, Dan will be attending Porter and Chester majoring in C.A.D. Design.

Abigail Underwood
Art has always been an outlet for Abbie and has always been a part of her life. Even when she was younger, she would color in coloring books and try and help her mom with her interior design plans. As Abbie has grown older, she has taken more interest in art. Throughout her high school career, she has taken classes ranging from sculpture and pottery, to painting and drawing. Although she succeeds in all of those areas of art, she prefers drawing most. Her style tends to be very neat and to "perfection," making pointillism an enjoyable technique for her. She recently completed a piece in her UConn ECE class using charcoal that was submitted into Scholastics and awarded a silver key. Next year, Abbie will be attending CCSU and although she is undecided in terms of her career, industrial design is a potential career path she may want to fulfill.